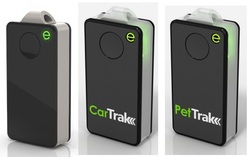 A research report by MarketResearch.com titled "World GPS Market Forecast to 2013" had indicated that the shipment of
global positioning system
(GPS) devices would grow at a CAGR of more than twenty percent during 2011-2013, to reach around 900 Million units by 2013. The key reason behind this projection was the widespread use of mobile mapping applications and location-aware smartphone applications.
Cashing in on the trend created by the GPS technology, eTrak Corporation, a provider of GPS location tracking devices, has unveiled its GPS+ line of consumer and commercial tracking products.
According to eTrak, GPS+ is the world's first global location management platform that integrates the usage of WiFi, Cellular Triangulation and GPS to attain accurate positioning, both indoors and out.
The eTrak GPS+ uses patented hybrid tracking technology and works on all computer and smartphone operating systems leveraging WiFi positioning. This feature facilitates its users to determine their exact location with high accuracy on Google Maps from any computer or smartphone.
Many of the products available in the eTrak product line cater to consumer segments, including the health-impaired, special needs, teen and pet populations.
Apart from featuring the GPS+ technology the new eTrak products also contain geo-fencing capabilities that trigger notifications if the device goes beyond preset boundaries. In addition, the notifications provide a map and address with the location of the device.
The eTrak consumer device is also equipped with an emergency panic button that sends help requests to pre-determined recipients in the event of an emergency.
Elucidating the applications of the new product line, John Harris, CEO, eTrak, said in a statement, "Small and large businesses will benefit from tracking their assets with loss prevention and cost savings…They will also be able to keep their employees safe and know if they are in danger or need assistance."
Utilizing the Verizon network in the U.S., eTrak also supplies custom design and development services for virtually any need or quantity.
"eTrak is the size of a domino and weighs less than an ounce," Harris added. "eTrak provides the longest battery life available, and is a low cost personal emergency-response product. And with Verizon's industry-leading coverage map, it works almost anywhere."
Currently, eTrak works in 172 countries, globally.