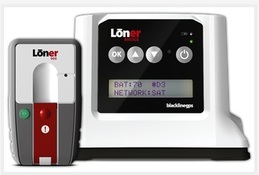 QUESTION:
How does an organization provide proper employee safety to employees who are working alone or out-of-sight of co-workers, inside a structure with no cell coverage (manufacturing plants, tunnels, etc.) or in remote "Satellite Only" locations and yet be able to quickly locate them if they have failed to Check-In or are in distress or incapacitated and require immediate assistance?
ANSWER:
The Loner BRIDGE ..... a self-contained vehicle tracking system that
incorporates dual-mode Satellite and Cellular communication
. Through redundant communications, the Loner BRIDGE is able to operate anywhere globally via satellite communications and in nearly every country using cellular networks. Additionally, the Loner BRIDGE incorporates a 900 MHz radio link to supply communications capability for up to ten (10) employee-worn Loner 900 safety monitoring devices.
When communicating with Loner 900 devices, employees are able to work up to ten (10) km's away from the Loner BRIDGE by line of sight and up to three (3) km's away with obstructions such as buildings or terrain. The combination of the Loner BRIDGE and Loner 900 marks the industry's first comprehensive safety monitoring solution in extreme conditions, anywhere on Earth ... even inside buildings!
The Loner BRIDGE is self-powered via internal rechargeable battery pack and can be hard-wired to a vehicle for charging and operation. The portability of the Loner BRIDGE enables use on vehicles, all-terrain vehicles, boats and even backpacks ....i
t will go anywhere you go.
KEY FEATURES:
Bi-directional Iridium Satellite Communication
Use of Iridium Low-Earth Orbit (LEO) satellite communications ensures optimum satellite reception at high latitudes, minimizing obstruction compared to geo-stationary satellite systems such as Inmarsat
100% Global Satellite Footprint (Anywhere in the world)
Iridium communications capability provides a true global footprint
Bi-directional Cellular Communications
Cellular networks provide cost-effective and redundant method of communications when geographically available
900 MHz Radio Communications
900 MHz communications provides the option of enabling the remote monitoring of employees using the Loner 900 safety monitoring device
GPS and Cellular ID Location Technology
GPS provides precise positioning when in open areas, however when GPS signals are unavailable, such as buildings, cellular location technology provides an additional method of locating the Loner BRIDGE system (when in cellular coverage)
LCD Display and User Interface
Designed for cold-weather environments, a built-in heater ensures a responsive interface
Internal Rechargeable Battery
The Loner BRIDGE will continue to operate for up to three (3) days without vehicle power for portable operation, if required
Works in 80 countries (Cellular Coverage)
When using cellular based communication, the Loner BRIDGE is able to operate in over (80) countries at one affordable price-point, with an additional (70) countries available for an additional fee.
For further information on the Loner BRIDGE and how it can be an integral part of your work alone safety procedure, c
ontact Blackridge Solutions at
(778) 686-5799 or sales@blackridgesolutions.com
www.BlackridgeSolutions.com