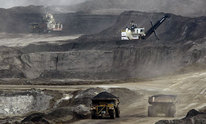 JANUARY 21, 2014 by
BLACKRIDGE SOLUTIONS
An employee working alone was found dead at around 11:00 am on Sunday at a Suncor sand dump area used for drying oil extraction materials.
At around 5:30 AM, the 40-year-old man went alone to investigate a pipeline leak. When he did not return for his shift change at 7:00 am, Suncor employees started looking around for him, the company said. They found their co-worker just before 11:00 am. at a so-called "sand dump" area, where materials tied to extracting bitumen from the oil sands are left to dry. "He was found unresponsive in a pool of sand and water," says Lisa Glover, spokesperson for Alberta Occupational Health and Safety.
The RCMP were contacted at around 8:00 am and were notified en route that the employee may have been deceased. The missing employee was found submerged in sand. His death has not been deemed suspicious.
Alberta OHS is currently investigating the scene of the incident. Suncor has also initiated its own investigation.
Suncor's Response
In response to the incident, Suncor has "initiated grief counselling activities for family and co-workers of the employee." in addition to releasing a statement regarding the incident:
"We extend our sincere condolences to the family, friends and co-workers, they are certainly in our thoughts and prayers during this extremely difficult time." Mark Little, Suncor's executive vice president leading the upstream division
Read the Globe and Mail article
here