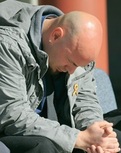 A Day to Honour and Remember Lives Lost On The Job
Across Canada, April 28th has been designated the Day of Mourning
Thirteen years ago Michael Lovett (pictured) lost his lower leg to a workplace injury. This year, he will be among the many taking part in the Day of Mourning to honour the (173) BC workers who died on the job in 2014.
In BC, every year, workers, families, employers, and others come together at ceremonies held around the province to remember those who have lost their lives to work-related incidents or occupational disease, and re–new our commitment to creating safe workplaces.
This year, WorkSafeBC, the BC Federation of Labour, and the Business Council of British Columbia will co-host a public ceremony in Vancouver to honour the occasion on Tuesday, April 28th, at the Vancouver Convention Centre's Jack Poole Plaza at 10:30 a.m.
To find out about ceremonies in your region, go to:
http://dayofmourning.bc.ca/
Download your Day of Mourning posters and decals and share with your employees or co-workers.
Posters:
Download
Decals
:
Download
(
print on Avery 2" round labels: #22807)
At
Blackridge Solutions
, we want everyone to end their shift safely!