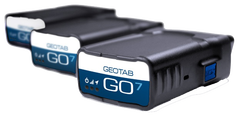 Vancouver, BC based
BLACKRIDGE Solutions
has announced that between September 2014 and June 2015, Geotab has sold more than 150,000 of its GO7 devices, which are designed to maximize productivity and minimize downtime for vehicle fleet managers by detecting data from the engine, drivetrain, instrument cluster and other subsystems as part of its overall telematics solution.
"Fleet owners value reliability, which is a major reason why the Geotab GO7 is their go-to solution for maximizing productivity and efficiency," said Geotab CEO Neil Cawse. "The GO7's 99.89 percent reliability, combined with Verizon's robust, reliable nationwide cellular network, gives them the peace of mind they simply can't get with most other telematics solutions."
Introduced in 2014, the GO7 was certified within a few weeks for use on Verizon's network, which obviously helped Geotab leverage sales into other demographics.
The GO7 provides a fleet manager with a rich collection of information, ranging from refrigeration to distracted driving to proximity to other vehicles, as well as providing camera feeds.
Vehicle fleet management is obviously one of those industries that are being transformed by Internet of Things technology and M2M solutions a little faster than other aspects of life, with the advent of self-driving truck fleets and the general application of technology to vehicle management.
Earlier this month, Geotab introduced
GOTALK,
an add-on module for the GO7 that helps with driver training. It can communicate orally with drivers behind the wheel, reminding them to fasten their seatbelt, letting them know that they're entering a restricted area, driving excessive hours, telling them that they're crossing a state line, or exceeding a speed limit set by a safety supervisor.
For further information on the GO7 or to get a FREE (30) day trial, contact
BLACKRIDGE Solutions
at:
(778) 686-5799
or
info@blackridgesolutions.com