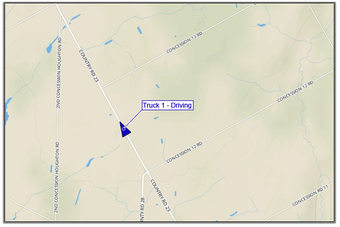 One of the major advantages of GPS
vehicle tracking
is that businesses are able to view their vehicles' location in real-time. Real-time tracking lets a business have direct control of their vehicles while they are en route, which allows them to make better decisions and improve customer service.
With the advancement in telematics technology, companies like Vancouver based
BLACKRIDGE Solutions
are now able to offer
LIVE
tracking through solutions like
Geotab's GO7
device., With real-time tracking there is always a slight delay in the refreshing of the vehicles location on the web portal screen, while in Live tracking you can actually seamlessly see the vehicle move on the web portal screen. This allows f
leet managers to see exactly where a vehicle is, immediately know if it is speeding and be able to
accurately
predict when it is expected to arrive at a given destination.
Live and Real-time vehicle tracking provides many advantages:
Increased Productivity:
Companies that are using a Live or Real-time tracking system increase the amount of service calls per day by approximately 23%. With live tracking, fleet managers can easily identify drivers that are not operating their vehicle efficiently. In addition, drivers are more likely to drive with better driving habits, obey guidelines and take the most direct routes when they know they are being closely monitored.

Improved Customer Service:
Live tracking systems help improve customer service with improved response times and increased productivity. On average, the drivers that are monitored with a real-time tracking system arrive within the promised response time 46% more often. The improved customer service alone, from implementing a GPS tracking system, often increases revenue by 16.4%.


Reduced Fuel Costs:
Fuel costs are one of the highest operating expenses for a business with a fleet of vehicles. Real-time tracking allows business owners to manage these expenses effectively by decreasing idle times, improving dispatching and routing, monitoring speed and getting an alert to stay informed of necessary vehicle maintenance.


Reduced Labor Costs:
If drivers are being paid an hourly rate, GPS fleet tracking prevents false time claims and extended trips to job sites.

Speed Monitoring:
Real-time GPS tracking sends alerts to the business owner or fleet manager if a driver exceeds the set speed limit. Speeding causes higher fuel consumption, and increases the risk and severity of automobile accidents.


Reduced Unauthorized Use:
Fleet managers will automatically be notified by the real-time tracking GPS system when a vehicle is driven outside of working hours or in areas that are not authorized.


Theft Recovery:
Owners know where their vehicles are around the clock. If a vehicle is stolen, the real-time tracking system can be used by police to locate the vehicle.




Hands-Free Mileage Logbook:
Business owners won't have to rely on their drivers to record all of their mileage logs or job arrival and departure logs. All of that information will be automatically calculated and reported by the real-time tracking system



In addition to all of the above live and real-time tracking advantages, BLACKRIDGE Solutions provides many extra benefits making them an industry leader. Implementing the
Geotab GO7
GPS tracking system includes: Live (no delay) or Real-time (15 second) tracking refresh rate, audible or voice (GO TALK) driver feedback, vehicle diagnostics,
Garmin integration
, mobile phone viewing application, simple plug and play installation, and much more.
BLACKRIDGE Solutions
provides cost-effective fleet management system tailored to your business.
To learn more, contact one of our fleet consultants today at:
i
nfo@blackridgesolutions.com or (778) 686-5799