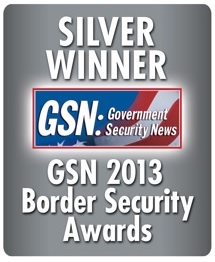 Government Security News has announced the Winners — including Blackline GPS — in its Border Security Awards program. Awards were formally announced and handed out at the Border Security Expo, which took place in Phoenix, AZ, on March 12-13, 2013.

In the Best Covert Surveillance Solution category, GSNidentified Blackline GPS as a Silver Winner for its cutting-edge Flat Track GPS loss prevention and covert tracking product.

The winners were selected by a panel of judges led by Chuck Brooks, who earned an MA in International Relations from the University of Chicago, was an Adjunct Professor at Johns Hopkins University, was the first Director of Legislative Affairs for the Science and Technology Directorate of the Department of Homeland Security and was a defense and foreign policy advisor to the late Senator Arlen Spector."

"We received an impressive collection of entries from large and small companies involved in border security," Goodwin said. "We're now pleased to unveil our list of honored companies and government agencies.