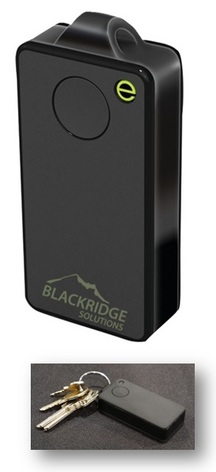 Seniors have told us that they prefer to be cared for at home, and evidence shows that when appropriately targeted and managed, care at home is safer and more effective while also helping to maintain an individual's independence.
Unfortunately a lot of the products out on the market today provide a degree of safety for seniors only when they are within their home's walls. Once they venture outside, they are no longer protected ... until now!
The Health Care Personal Safety device allows seniors or individuals managing a medical condition the ability to be more mobile and roam beyond the confines of their homes or assisted living premises, while still having access to an emergency panic button. By using the latest in GPS technology, after pressing the emergency panic button, a map with turn-by-turn directions will be provided to predefined contacts via SMS/text and email. A 24/7 Monitoring Service will also provide the care and assistance required to ensure a loved ones safety.
Key Features:
Access to an Emergency Panic Button

First product to use three levels of GPS technology: WiFi, Cell ID and GPS

Extended battery life - lasts up to five (5) days in between charges

Ability to create Safety Circles with exit and entry alerts

Highly accurate GPS locates - within 10 feet indoors
Immediate email/text alert messages with mapping details and turn-by-turn directions
Lowest monthly service plan on the market
24/7 Monitoring Services
Made in the USA
Frequently Asked Questions (FAQ):
My mother has dementia and I would like to be made aware when she leaves the house or a predefined location? By creating Safety Circles around your house or other locations, you will receive immediate notification when your mother has exited or entered that specific area via a text or email. If you subscribed to the Monitoring Center services, they will be able to know exactly where your mother is at all times and ensure she arrives back home safely.
I am concerned that the device will be too big to wear and that the battery will drain too quickly. The Health Care Personal Safety device has set new industry benchmarks in size and battery life. The unit is so small it fits in the palm of your hand and so light you can wear it around your neck. Depending on how frequently you request a new GPS location (5 - 30 minutes), the device will maintain a charge for between 5 and 6 days before you will have to recharge it back up. The device will also warn you in advance when the battery becomes low.

What about being able to locate inside a building? Using proprietary GPS+ Hybrid Tracking Technology, the Health Care Personal Safety device is the only GPS device available that provides WiFi, Cell ID and GPS locate functionality, allowing an indoor locate of within 10 feet.. So if you are at home, at your neighbors or out at the community center, the unit will be able to locate you.

Can I take the device with me on holidays? The Health Care Personal Safety device has global coverage so whether you are in Canada, the USA or another country, and within a cellular coverage area or a location with WiFi, you can rely on the device to provide you with an accurate GPS locate, no matter where you are.
To find out more or to order the Health Care Personal Safety device, contact Blackridge Solutions at: (778) 686-5799 or sales@blackridgesolutions.com.