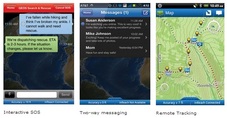 Pair your inReach SE with smartphones and tablets to access free downloadable topographic maps and NOAA (US) charts when out of cellular coverage.
An exclusive benefit of inReach ownership is unlimited access to free maps and NOAA (US) charts. Before leaving on a trip, use a high speed connection to download the area of the world you will be travelling in the Earthmate app on your mobile device. When you`re out on your adventure you'll always know where you are and your map remains accessible even outside of cellular coverage. Previously downloaded map data was only accessible during paired mode.
Earthmate App
Transform your smartphone or tablet into a global satellite communication and navigation tool with our free Earthmate app:
Worry-free navigation and journey tracking.
Unlimited access to downloadable topographic maps and NOAA (US) charts on your paired mobile device.
Automatically syncs with your mobile device's address book for easy texting.
Pairs via Bluetooth.