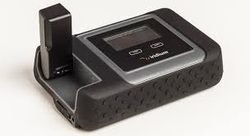 Just released, the
Iridium GO!
will allow your smartphone to work anywhere on the planet.
Iridium GO! creates the first ever reliable global connection for voice and data communications on your smartphone or up to 5 mobile devices. No worries. No roaming charges. Just connect and stay in touch wherever you are, whenever you need to, with the devices you rely on everyday.
Iridium GO! enables satellite connectivity for your mobile devices where terrestrial networks cannot. Simply flip up the integrated antenna and the battery-powered unit connects quickly and automatically to the Iridium LEO satellite constellation to create an anywhere WiFi hotspot within approximately a 30.5 meter (100 foot) radius. You can easily connect and operate multiple devices within this area using the Iridium GO! application.
Iridium GO! supports a full range of global communications, including:
Voice calls

Email access

SOS alert

SMS/text two-way

GPS tracking

Applications

Social networking

Photo sharing

Powered by the furthest reaching network, this compact, rugged and portable unit dramatically extends the capabilities of any smartphone, laptop or tablet by creating a satellite-backed WiFi hotspot - anywhere on the planet.
For more information or to place an order, contact
Blackridge Solutions
at:
(778) 686-5799
or
info@blackridgesolutions.com